---
A grinder that replaces lapping
General lapping is a batch process that uses loose grain, making it difficult to control the finish thickness. DFG8340 improves processing quality and the environmental load by measuring wafer thickness in real time and processing with only DI water.
Easy Operation
Installation of a touch screen and GUI (Graphical User Interface) provides improved operability. In addition, processing and equipment status are displayed on-screen and each operation can be performed just by touching the icons. Thus, high operability during processing and maintenance is achieved.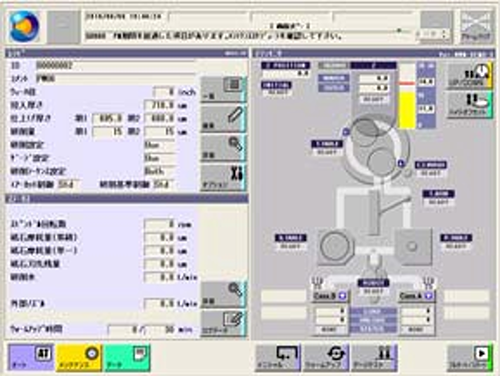 Simplified Wafer Shape Adjustment
Using the one-touch wafer shape adjustment function on the operation panel to suit the workpiece, DFG8340 achieves stable processing accuracy for a variety of workpieces.

Work Flow System
The robot pick removes the wafer from the cassette and places it on the positioning table, where centering takes place.
The transfer arm places the wafer on the chuck table.
Grinding.
The transfer arm removes the wafer from the chuck table and places it on the spinner.
Cleaning and drying.
The robot pick returns the workpiece to the cassette.
---
Specifications
*Product appearance, features, specifications, and other details may change due to technical modifications.
*Please read the standard specification sheet thoroughly before use.